QuitCarbon For Rental Property Upgrades: A Case Study
Electrification Challenges in Rental Properties
QuitCarbon's innovative platform accelerates affordable home electrification in both owner-occupied and rental properties. We recently won a prize from the Department of Energy for our approach to equitable electrification. This case study discusses the challenges in electrifying rental properties and illustrates our approach with a recent project example.
Electrifying rental properties is a unique challenge because of the "split incentive" problem: Renters typically pay the utility bills and stand to gain from any cost savings, while landlords (who make these decisions) are responsible for covering the upfront costs of the upgrade.
Due to this split incentive, electrification projects rarely get started in rental properties. This is a huge obstacle for removing the substantial amount of carbon pollution that comes from the 36% of residential buildings that are renter-occupied.
In a recent case, we helped a renter and owner upgrade to a heat pump water heater in a project that was completely covered by federal tax credits and local rebates. With our free Electrification Plan that showed the value of an appliance upgrade and optimized rebates, we were able to eliminate the split incentive and create value for both parties.
Case Study: How QuitCarbon Helped Bing
Bing K. wanted to stop using fossil fuels for hot water in the apartment he was renting.
By signing up for a free Electrification Plan with QuitCarbon, he was able to show his landlord how a new heat pump water heater could get installed for free thanks to rebates and tax credits.
QuitCarbon assessed the situation and developed an Electrification Plan which recommended installing a 120V heat pump water heater in the garage.
QuitCarbon also communicated with the incentive program managers to figure out how rebates could be maximized for this project. By including PCE and BayREN rebates, the project was completely covered by the federal tax credit in the Inflation Reduction Act. That's right – they were able to upgrade to a brand new, efficient, electric heat pump water heater for free!
Switching to a heat pump water heater would also save Bing money due to being 3-4 times more efficient than a gas-powered model. With the benefit of getting a free appliance upgrade, it became a no-brainer.
QuitCarbon put Bing's landlord in touch with a local plumbing company which quickly responded. They were able to install the new heat pump water heater and remove the old, polluting model within a week.
In this rental property, we turned the "split incentive" into a "double bonus". Bing now benefits from lower energy costs, increased water heating efficiency, and a safer home environment. His landlord got a new heat pump water heater that won't need to be replaced for at least 10 years, all for free.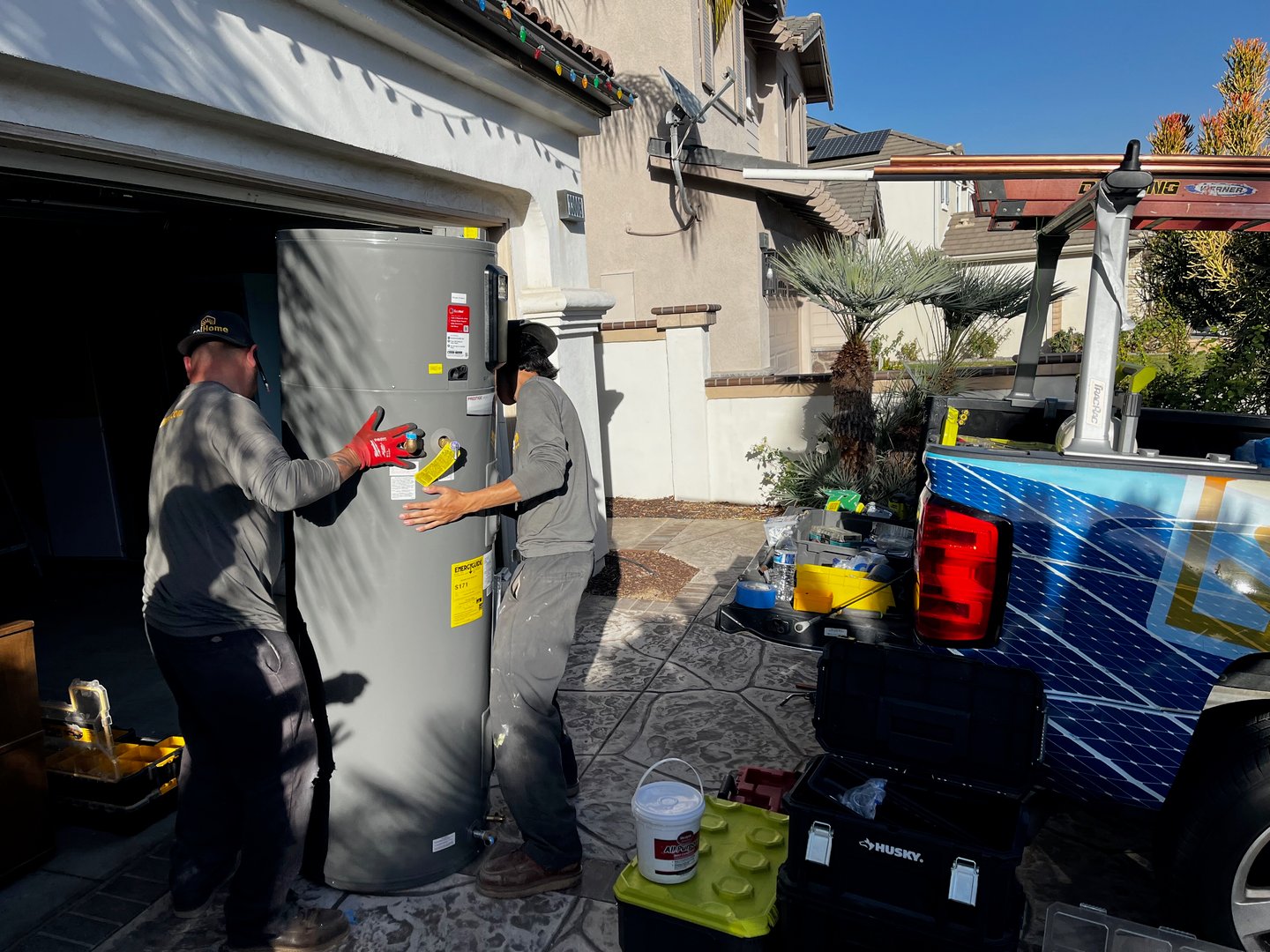 How QuitCarbon Can Help Renters Everywhere
At scale, QuitCarbon's platform can help millions of renters and landlords make electrification upgrades. When the time comes to replace an aging gas-powered appliance, QuitCarbon aligns the incentives for both renters and landlords to electrify.
With our free Electrification Plans, we make it easy for renters to access government incentives and properly scope projects to suggest for a landlord. From there, landlords benefit from the rebates we can apply to the upfront costs. Neither party needs to worry about sourcing a contractor, as QuitCarbon connects them to a trusted local business that will get the job done right.
Using QuitCarbon is a win-win. Renters get lower energy costs and landlords get increased home values from electric appliances. Everyone gets less carbon pollution and better air quality. Click below to get started!