About QuitCarbon
QuitCarbon is a software and data platform helping to transition millions of US homes to clean, electric energy. We provide homeowners with a personalized "Electrification Plan" – a roadmap guiding them through the world of heat pumps, induction cooking, EV charging, solar panels, batteries, and more. Our network of trusted local contractors makes sure electrification upgrade work gets done right.
Easy ways to help
If you believe in our mission and are as passionate about clean energy as we are, there's a few ways you can help and get involved!
Get an Electrification Sign 🪧
Share how much you care and encourage your community to electrify with a free yard or window sign from QuitCarbon!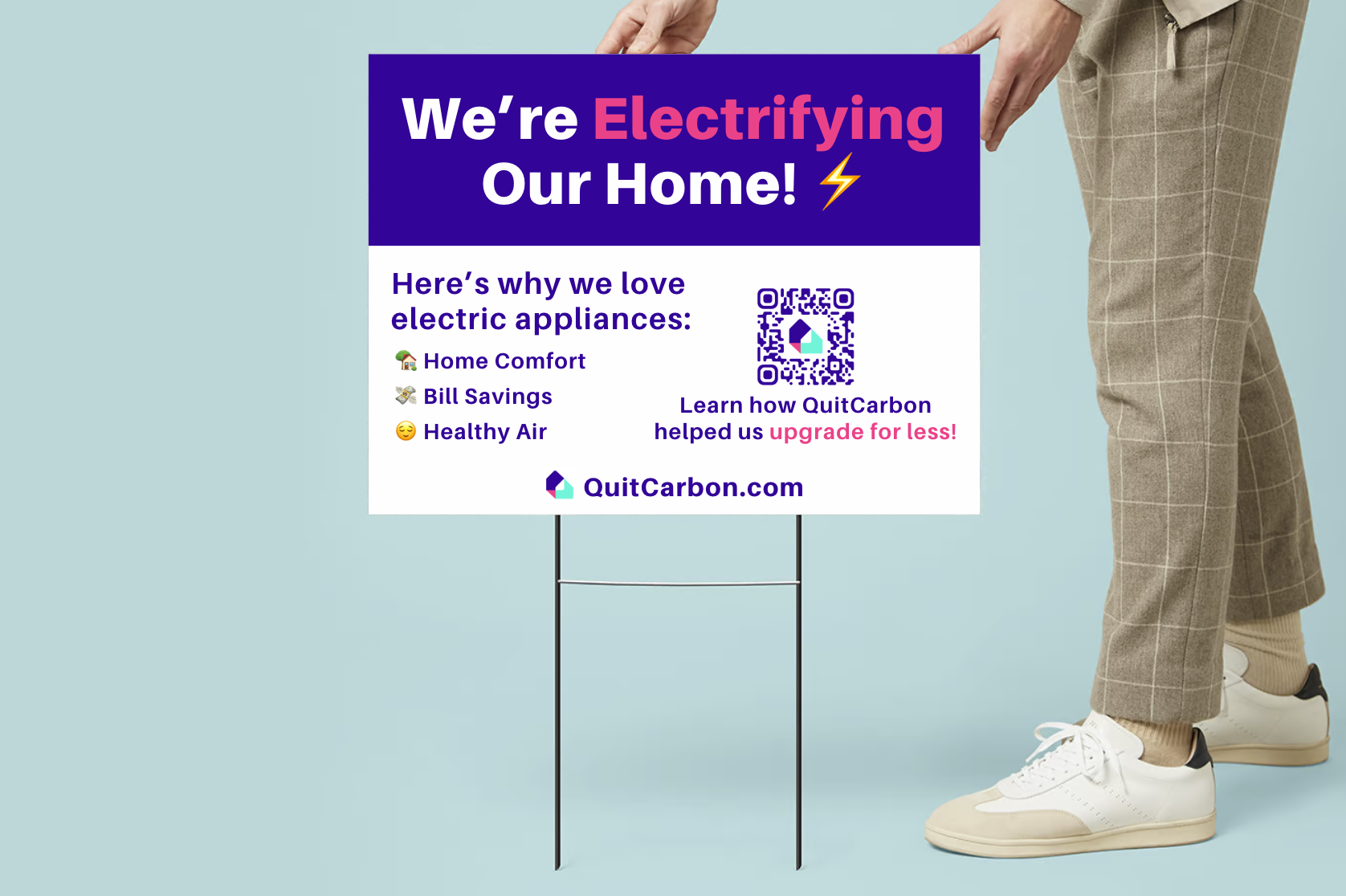 We're always looking for champions of home electrification to share the incredible health, climate, and financial benefits of clean energy. This could look like:
Joining QuitCarbon at an in-person event, sharing your love of electrification with participants!
Becoming a reference for neighbors considering electrification
Having your electrification story highlighted on QuitCarbon.com
Joining our press contact list so reporters can hear about your electrification story
If you want to support by becoming an advocate, fill out this form and we'll reach out to you shortly!
Become an advocate for home electrification and QuitCarbon
Thank you for lending a hand (or voice) to further our mission of helping more homes transition to clean energy. Once you've submitted this form, we'll connect with you about upcoming opportunities!
Introduce QuitCarbon to your community 🤝
Do you know folks in community groups, neighborhood associations, faith-based groups, local non-profits, clubs, associations, etc? Please send them to
QuitCarbon's community page
so that we can share the joy of electrification with them!