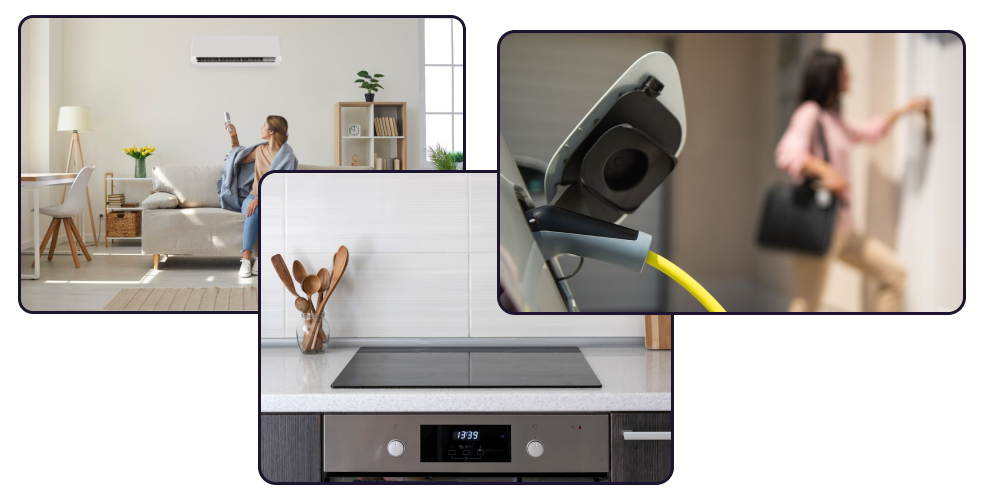 Electric home appliances powered by sustainable energy sources are not just a way to reduce your carbon footprint. Planned correctly, they can make your home more comfortable and save you money at the same time.

The problem right now for many homeowners is that it's tough to get your head around all the options. Which appliances are right for you? Will your home's electric infrastructure support them all? Which contractors really know what they're doing? And how do you maximize federal and local rebates to save money?

Our Electrification Plans answer those questions. Just follow the 3 steps below and we'll get you there.
First, we learn about you. Just answer a few questions online and then take some pictures with your phone.

Then, we simplify. You'll meet with a QuitCarbon advisor to ask and answer questions about your home and electrification.
Using what we learned, we'll create your free, personalized Electrification Plan.

This easy-to-read but thorough document sums up the key appliance and home changes you can make to cut pollution and maximize comfort, efficiency, rebates, and savings.

The stuff that seemed overwhelming before will now be clear, easy, and tailored just for you.
We'll introduce you a trusted contractor in our network for a bid to get your climate-friendly appliances installed. We'll help you understand the bid and dig into questions that you have.

We'll also periodically update your plan, notifying you of special opportunities like new sales and rebates, and we'll always be available to answer your questions.
QuitCarbon Success Stories
Amy's main motivation to electrify her condo involved her gas stove, but after seeing our electrification plan she wanted to move forward with installing a heat pump, resealing her windows, and even doing a home energy audit. Vetting out 4 contractors on her own would have been a huge pain, so we were happy to set her up with 4 experienced providers we know will do a great job.
"Carbon reduction and health are my 2 motivations. I have health concerns around gas stoves- I have little kids and don't want the toxic fumes. I really enjoyed working with Ted and the team. I feel like they're my partners instead of feeling like a vendor, which is nice."

"The initial "punch list" audit that was prepared by QuitCarbon of: here's what you've already done, and here's what you can do, that was extremely valuable. Equally viable is the connections to the service providers, so I don't have to go on Yelp and vet them myself."